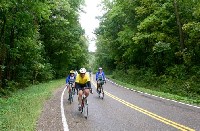 SCBC Photo Gallery . . .
For best viewing in Flickr try the following:
1. Click on any Set to view it's photos.
2. Click on the photo in the upper left of the Set.
3. Click on the + in the magnifying glass over the picture.
4. Use the arrow keys, <- Prev and Next->, to step through the Set.
5. Or use the Slideshow button located between Prev and Next.
6. When finished viewing a Set, Use drop-down menu on Bike SCBC Biker Chick icon to select Sets.
7. First time Flickr users may want to print the Flickr Help Doc to have it available for quick reference.
Flickr and/or Flickr Help are opened in a new Window or Browser Tab depending on the browser you use.
To return to the BikeSCBC web site, close the Flickr and/or Flickr Help Window or Browser Tab.