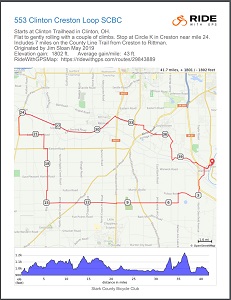 Ride Maps . . .

MEMBERS ONLY AREA!
SCBC maps are password protected.
Enter your password below to download maps.

All maps are in PDF format.

Click here to print a Ride Leader's ride sign-up sheet: Sign-up sheet

Download May 3nd, 2022 SCBC Ride Map List in EXCEL xlsx format

These maps are the sole property of the Stark County Bicycle Club and are provided to Club members
pursuant to a licensing agreement with the Kappa Map Group LLC, 2000 Brunswick Lane, DeLand, FL 32724.